Stay Busy and Productive!
09 August 2021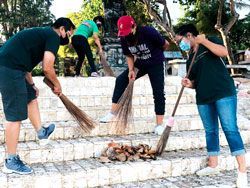 With the current challenging situation with the government extension of social restrictions to curb the spread of Covid-19. The Bali Dynasty Resort team is using the time wisely to assure the resort is ready to welcome you.
Several activities have been organized to increase the teams health and motivation during this challenging time. In order to boost the health of our team members, Zumba Classes are held every Friday morning around the pool followed by beach cleaning. These activities are in place as part of weekly schedule on our resort programs to maintain the resort as well as the productivity of the team members. Several maintenance jobs such as retiling the pool, repainting, deep cleaning, cocktail and coffee training at Gracie Kelly's and plenty of garden upkeep to keep the lovely tropical feel green and full of colour.
Previous
Pool Time at Bali Dynasty Resort
Next
Top 10 Reasons to choose Bali Dynasty Resort for your family holiday in Bali!