Pool Time at Bali Dynasty Resort
09 August 2021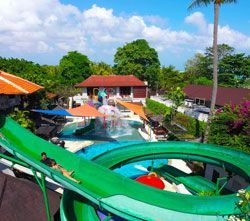 Feeling the need to escape for a day? Pack your swimsuit and sunscreen and head to Bali Dynasty Resort for the day! It's the perfect day out for the whole family!
Known for its Waterpark, Bali Dynasty Resort is now open to guests looking to enjoy our day-pass that allows you to receive unlimited access to all the resort pools and facilities. Fun in the sun at our resort will be splendid with more benefits have to offer, including 100% fully credited Food and beverage voucher, FREE Gym use, FREE Pool Towel, FREE Sun Bed, and FREE unlimited access to Dynasty Waterpark.
You can now enjoy this day pass package from 11 AM to 5 PM. Booking is required, to make a reservation drop us a message on 08113803522.
Previous
Escape to your Home Away From Home in Bali
Next
Stay Busy and Productive!