Christmas in an Irish vibes? Why not!
04 November 2021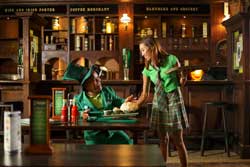 Hands up if you are looking for an incredible Christmas celebration at Gracie Kelly's Irish Pub. Come and join the celebration at Gracie Kelly's Irish Pub this Christmas!
Indulge your taste buds during Christmas celebration with a selection of home- style Irish dishes in a set menu. Special 50K on selected cocktails and our famous Guinness Beer will also be available during the day.
Date: 25 December 2021
Venue: Gracie Kelly's
Time: 4pm – 9pm
Price adult: Starting from 125
Food: Set Menu (appetizer, main course, and dessert)
Entertainment: Live Irish Band Performance
Secure your table now for an upbeat evening of family friendly fun by simply drop us a message at dm@bdr.pphotels.com.
Previous
Secure Your Table to Celebrate Christmas at Bali Dynasty Resort
Next
Bali is slowly re-open to International Travellers in October