Blood Donation
01 September 2021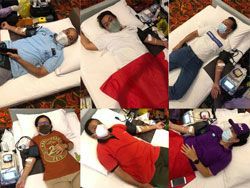 To coincide with Indonesia 76th Independence Day, Bali Dynasty Resort along with Bali Hotels Association hosted a Blood Donation event on Wednesday, 18th August 2021 between 1 PM – 4 PM in the Kertagosa Meeting Room. This was part of a regular initiative that the resort organized in conjunction with the Indonesian Red Cross.
General Manager, Mr. Didit Indra Purnawarman says "I like to encourage our management and staff to participate. It's so easy and it doesn't take up much of your time."
A significant number of staff members participated in the event, which resulted in numbers of bags of blood being collected for the Indonesian Red Cross (PMI). All of the bags were then transported to the regional blood bank located at Sanglah Hospital to be stored accordingly ready for distribution to patients in need.
Bali Dynasty Resort and Bali Hotels Association had successfully conducted blood drive under strict health and safety conditions allowing blood donations to continue.
Previous
Fun in the sun at Bali Dynasty Resort's Waterpark