A day of work in Bali paradise!
12 July 2021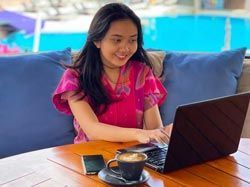 Working remotely is now all the hype these days especially after offices mandated to work from home. Thousands of lucky people have got an unlimited privileged to work from any part of the world.
Bali known as the magical and exotic island, and has even has been appointed by Indonesia's Ministry of Tourism and Travel, as a business destination for professionals and corporate officers. There has been a call to action for all digital nomads in the entire nation to work from the island of Gods as well.
Bali Dynasty Resort, popular as a family resort in Kuta, is now offering your Work From Bali package that allows digital nomads to work and stay with the ultimate comforts and complete 5 Star resort facilities all at very affordable rates.
4 Days/ 3 Nights IDR 2.400.000 nett/ room for 2 adults
8 Days/ 7 Nights IDR 5.425.000 nett/ room for 2 adults
15 Days/ 14 Nights IDR 10.500.000 nett/ room for 2 adults
Unlock these benefits including daily breakfast, free laundry, free high speed WiFi, free access to resort's meeting room, free access to all resort's facilities including gym and bicycle, free 60 minutes Signature Balinese Massage at Ashoka Spa, free airport transfer. To book, send us a message on WhatsApp +628113803522 or reservations@bdr.pphotels.com. Booking period is up to 21st July 2021 for staying up to 31st July 2021.
Previous
Current News Update in Bali
Next
Escape to your Home Away From Home in Bali