Back To Bali Dynasty Party 2020
24 February 2020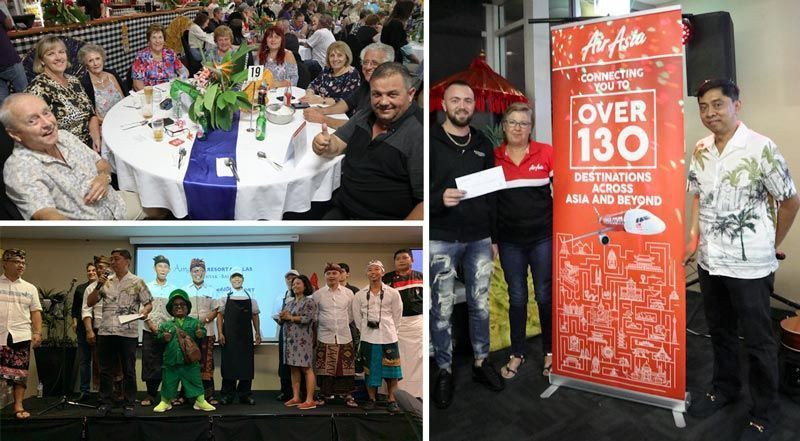 The 27th annual Back to Bali Dynasty Party was hosted on Saturday, 15th February 2020 at the Leederville Oval in Perth, Western Australia, and was an overwhelming success! As the resort's biggest annual fundraising event, this year's party was attended by more than 200 loyal guests for an evening of fundraising, fabulous food and fun. It was once again made possible by the generosity of attendees and major sponsors such as Air Asia, Asia Escape Holidays and Hello World Travel Limited.
This year's Back to Bali Dynasty Party attracted an energetic crowd of Perth residents. The event was officially hosted by the General Manager of Bali Dynasty Resort, Mr. Didit Indra. Numerous performances throughout the evening, such as live acoustic music by our famous in house musician - Hendra and upbeat tunes provided by DJ Steve featuring the iconic Cebolino, which kept everyone entertained. Dinner was an impressive three-course set menu of delicious Balinese cuisine lovingly prepared by Chef Suastika and his amazing Balinese kitchen team, who flew down from Bali especially for the event.
Thanks to the incredible generosity of the guests, Bali Dynasty Resort was able to raise thousands of dollars through the dinner event entrance fee and from the sale of the $10 raffle tickets. There were many amazing prizes on offer, including return flights for two people to Bali sponsored by Air Asia, hotel accommodation vouchers, entry tickets to various Bali activities, and much more.
All proceeds will be directed to the honorable Bali Solemen foundation, Bali Dynasty's chosen charity partner. Bali Solemen foundation is an Indonesian non -profit foundation, who provide direct support and funding for the disadvantaged in Bali. Established in October 2010, Solemen is one of Bali's most trusted and visible charities. Solemen's Outreach Programs benefit the poor, the disadvantaged, the 'diffabled' (differently abled), the homeless and the marginalised in Bali. The charity's goal is to alleviate the misery of extreme poverty by bringing hope and sustainable solutions to those who remain hidden from public view and hence are separated from easy access to medical treatment. Solemen actively reaches people who fall through the cracks and are not helped by the existing network of charitable organisations and government programs. In an effort to alleviate the suffering of individuals in Bali through a collaborative partnership between the Bali Dynasty Resort and Solemen Indonesia. Together in February 2016 they launched, the project is called "Help Friends for Life" and it has since supported many 'Sole Buddies' with their ongoing long-term care and educational needs. A significant number of one-off donations have also been made in the form of wheelchairs, prosthetic limbs and also covering varying medical treatments.
Bali Dynasty Resort's biggest charity achievement to date has been the funding of Bali Dynasty Resorts' Recovery Centre last year – this is a supporting facility within the new Solemen Centre, replacing the previous Sole House. The Bali Dynasty Recovery Centre is a comfortable home environment where patients can recuperate after surgery or treatment. There is also a self-contained room for patients requiring isolated care. In addition, a Solemen Car was purchased to transport people in need to the hospital for free. Other initiatives have included the installation of community toilets and shower blocks for an impoverished extended family group in North Bali, giving 26 people access to basic bathroom facilities and proper hygiene.
We'd like to thank all of our sponsors for kindly supporting us and contributing to the success of this event. The list includes:
Platinum Sponsor: Air Asia
Gold Sponsors: Asia Escape Holidays, Hello World Travel Limited
Food and Beverage Sponsors: C&M Italiano, The Gelato Bar, Bali Moon Essential Cocktail Ingredients, Bintang Beer, Hatten Wine
Supporting Sponsors: Amadea Resorts & Villas, Menjangan Dynasty Resort, Prime Plaza Hotel & Suites Sanur, Mason Adventures, Bali Bird Park, Bali Hai Cruise, Taru Bali, Waterbom, Bali Quad Discovery Tours, Bali Safari & Marine Park, Bali Zoo, Bali Nusa Dua Theatre, Bali Vista, Marine Walk, Bali UTV, Finns Beach Club, Odyssey, PACTO, all of Bali Dynasty Resort's returnee guests for the staff accommodation during in Perth.