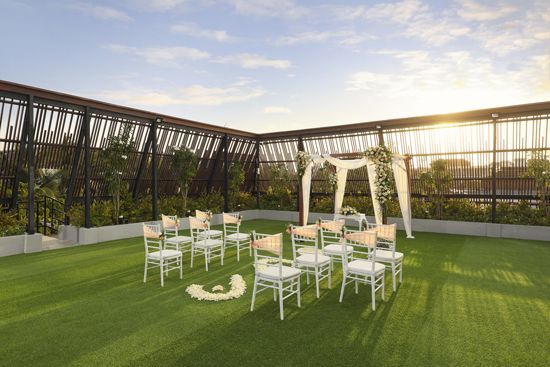 Here at the Bali Dynasty Resort, we have a professional team who can tailor-make a complete programme to suit your individual needs; from arranging in-house theme dinners, teambuilding and beach games to exotic dinner cruises, island tours and spouse programmes.
If you're looking for a Meeting, Incentive, Conference or Exhibition venue that offers more than a few rooms and break-out facilities, then consider the Bali Dynasty Resort.
The resort has recently upgraded its new multi-functional meeting venue for events, incentives, conferences and exhibitions. Launched in August 2018, this versatile facility has been designed for the successful execution of meetings and events on the Island of the Gods. Spread across two spacious levels, the venue features a choice of well-appointed meeting rooms. Each has been named after a neighbouring island such as; Grand Nusa Penida, Nusa Lembongan 1 & 2, Nusa Ceningan 1 & 2. Supported by a stylish décor, several luxury restrooms, a mosque and a comfortable smoking area, this contemporary venue is fully equipped to accommodate up to 580 persons or 5 separate meetings on a daily basis.
The resort has also recently upgraded numerous facilities to support its MICE and wedding segment. These enhancements include the new Sunset Bar, a new Gym and the new-look Gracie Kelly's Irish Pub, which was relocated to the front entrance of the resort in March 2019 and can now seat up to 187 people for lunch or dinner
Flip through our Event Booklet for further information and detailed packages.

We can also assist you with a selection of menus which you can choose from, BBQ dinner, Indonesian or International Buffet as well as several entertainment options.

For further information, bookings and accommodation arrangements please contact Ami, our Event Coordinator at events@bdr.pphotels.com
Wedding Ceremony Package-Balinese
Price starting from: US$ 1,200 nett (excluding administration fee for the Consulate)
Inclusions:
Administrative arrangements and priest - Protestant
Balinese Decorations
Set up for guests and bridal party
Sound system and music or bring your own choice
Flower arrangement
Flower Bouquet for Bride and Pin hole for Groom
2 Tropical Fruit Cocktails for the Bride and Groom for toasting
2 Tier Wedding Cake
Choice of venues within the resort (Beach, Duck Pond)
EXCLUSIVE: Administration fee at Consulate, Sworn Translator Fee to Translate Birth Certificate and Divorce Certificate (if any) is IDR 250.000 per page. Baptism/Christnening fee to become Christian is IDR 1,000,000
Wedding Ceremony Package - Western
Price starting from: US$1,200 nett (excluding administration fee for the Consulate)
Inclusions:
Administrative arrangements and priest - Protestant
Western Set up
Set up for guests and bridal party
Sound system and music or bring your own choice
Flower arrangement
Flower Bouquet for Bride and Pin hole for Groom
2 Tropical Fruit Cocktails for the Bride and Groom for toasting
2 Tier Wedding Cake
Choice of venues within the resort
EXCLUSIVE: Administration fee at Consulate, Sworn Translator Fee to Translate Birth Certificate and Divorce Certificate (if any) is IDR 250.000 per page. Baptism/Christnening fee to become Christian is IDR 1,000,000
Renewal of weddings vows /Commitment Ceremony – with Protestant priest
Price starting from: USD 700 net
Inclusions:
Protestant priest
Western Decoration in an area of the hotel of your choice
Set up for guests and bridal party
decorated welcome board
white cover chair with gold or silver chair ribbon
Sound system
Flower arrangement
Flower Bouquet for Bride and Pin hole for Groom
2 Tropical Fruit Cocktails for the Bride and Groom for the toasts