New Family Suites and the New Look of the Kids Club at the Bali Dynasty Resort
03 March 2017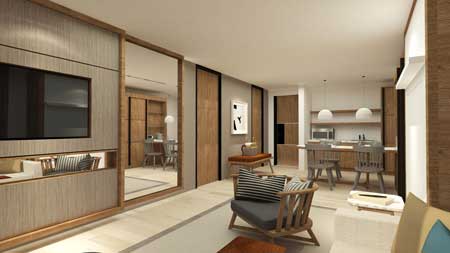 Bali Dynasty Resort will soon offer the brand new Family Suites, a spacious room category redesigned from the fully renovated Executive Suites with modern touches and comforts to cater for the Resort's well-established family market.
The Family Suite room is set to provide more privacy and space for family travellers. Each Family Suite measures 80m2 with double balconies overlooking the Resort's inner tropical garden. The room features a master bedroom and a separate living room which can be easily converted to become a secondary bedroom with the addition of the Murphy beds (or pull-down twin beds). The room also comprises two bathrooms, as there is now a separate en suite shower room and toilet for the kids. The kitchenette, microwave, toaster, fridge and water dispenser are also available in the living room. These spacious rooms can sleep up to 5 adults.
The Family Suite Rooms will be available as of the 1st of May 2017. This will be the new addition to the Resort's family rooms collection which currently consists of Family Garden Rooms, Family Studio Rooms, Family Pool Rooms, Kids Suites, all of which can sleep up to 5 people, and the guaranteed Deluxe Interconnecting Rooms which sleep up to 6.
The Resort has also recently completed a major upgrade to its popular Kids Club and the Kids Water Fun Zone. The upgrade included re-theming with a new Superhero and Disney theme and removing the Kids Club mid-room partition to allow more space for the activities. This will also allow the Kids Club to cater for more kids during the popular Kids Movie Nights every Thursday and Saturday which is normally booked out. Many of the toys and games are also replaced and several new kids activities have been introduced offering a balance of fun and education for the children while the parents enjoy a relaxing break. The Kids Club, Kids Playground, together with the The Den Teens Club and the Kids Water Fun Zone are free of charge for the Resort's guests.
The recent upgrade re-affirms Bali Dynasty Resort's commitment to be the premier resort for families and leisure in the heart of South Kuta Beach. "Each year we strive to make more and more improvements to ensure an enhanced experience for our valued guests while still offering the same great value for money," said Didit Indra Purnawarman, the Resort Manager.
The Bali Dynasty Resort's popularity and consistent quality has been recognised by many awards over the years, i.e. Top 10 Family Resorts in Holidays with Kids Readers' Choice Awards for seven-consecutive years, TripAdvisor Top 25 Best Hotels for Families in Asia and Indonesia and more.
Please click here to download images.
--- End ---
Bali Dynasty Resort is a member of Prime Plaza Hotels & Resorts and is one of South Kuta's longest established family resorts, renowned for its warm Balinese hospitality. An award winning family resort, it offers a huge array of fun facilities that keeps everyone entertained. Strategically located on the famous South Kuta Beach strip; Bali Dynasty Resort has become a home away from home for leisure travellers from around the world. Bali Dynasty Resort is only ten minutes drive from the airport and located within walking distance of many small restaurants and bars, Kuta Art Market, as well as the Waterbom Park and two large shopping malls. www.balidynasty.com
Prime Plaza Hotels & Resorts since its establishment in 2003 has prided itself as being 'The Signature of Indonesian Hospitality' and on delivering genuine hospitality and service. Prime Plaza Hotels & Resorts now comprises eleven properties in both Bali and Java under three brands, Prime Plaza Hotels, Prime Plaza Resorts & Villas and PrimeBiz Hotels. www.pphotels.com
Media Contact:
Agus Mahardana – Marketing & Public Relations
Phone: +62 361 752403 | Email: pr@bdr.pphotels.com