Help Us to Win The 2021 Holiday With Kids Readers' Choice Awards!
13 October 2021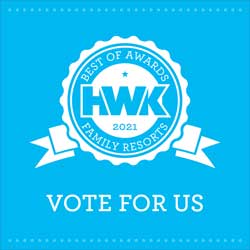 Thank you for all of your support throughout the years!
Vote for us in the Top 10 Awards for Best Family Resort 2021 by Holiday with Kids Reader's Choice Awards and help us become the best family resort in Indonesia for the 12th consecutive year!
Nominations are now open so please take a few minutes to fill out the form and VOTE FOR US.
The Holidays with Kids team runs a highly regarded Annual Top Ten Award for The Best Family Resort in Indonesia. The wonderful thing about these awards is that they are completely 'Readers' Choice', rather than being judged by a panel. You get to decide on the best place to holiday with your family, as recommended by you.
If you think we are one of the best family resorts that you and your family have experienced, please share your experience and increase our chances of winning an award by submitting your votes. Please also share with your family and friends.

Previous
Blood Donation
Next
Great Deals at Family Hotels in Kuta Bali