1st Anniversary SoleHouse Celebration
01 August 2018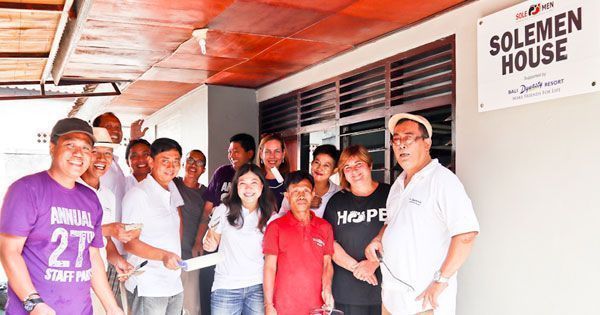 Tuban, 1 August 2018 – Since February 2016, Bali Dynasty Resort has committed to supporting Solemen under the tagline "Help Friends For Life". This has involved assisting many SoleBuddies with their ongoing long-term care and education as well as providing one-off donations such as wheelchairs, prosthetic legs and medical treatment.
In July 2017, Bali Dynasty Resort significantly contributed to helping disadvantaged members of the Balinese community by sponsoring SoleHouse in Renon, Denpasar. This is a "Home from Home" for a number of children and their parents or carers during pre and post-operative care. It features four bedrooms, two shared bathrooms, a living room, and a communal kitchen with running water and electricity. The house is a blessing for the poor and their families who live far away from the hospital, and for whom basic needs such as a comfortable bed and modern bathing facilities are a rare extravagance.
To celebrate the 1st anniversary of SoleHouse on 31stJuly 2018, Bali Dynasty Resort arranged for general maintenance to be carried out. The repainting of walls and fixing the roof were just two of the main activities completed by the team. Sarah Chapman (Solemen Head of Outreach was also onsite to lend a helping hand.
We would like to thank all of our guests for their generous donations and support of our Charity Effort. This has enabled us to drive our sustainable social commitment programme and in turn help the disadvantaged people of Bali. Our biggest annual fundraising initiative is the yearly Back to Bali Dynasty Party in Perth. We also conduct plenty of fundraising within the resort, through everyday poolside games, donation boxes and a voluntary $2 donation for guests checking out. Then there's our twice-weekly Charity Quiz Night at Gracie Kelly's Irish Pub, held every Tuesday at 7.30pm and Thursday at 8.45pm, where everyone is welcome.