Experiencing Szechuan Salmon at Golden Lotus
28 June 2018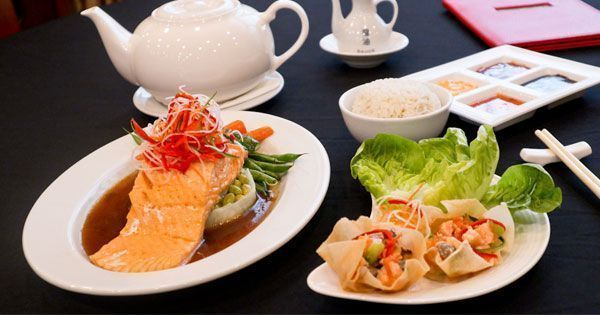 Tuban, 28 June 2018. Golden Lotus Chinese Restaurant, an award winning Chinese restaurant at the Bali Dynasty Resort, invites diners to experience the new quarterly special 'Szechuan Salmon'.
The Szechuan Salmon by Golden Lotus Chinese Restaurant offers a special set including Diced Salmon, Szechuan vegetables, fresh baby greens, with 4 different sauces as an appetizer, and two different choices of main courses. The choice of two main courses can be paired with a starter, Diced Salmon, such as Char Siu Salmon, a hokkien noodle served with fried salmon, or Steamed Salmon, served with baby vegetables, edamame, and rice.
This Szechuan Salmon set can be enjoyed for only IDR 185.000 nett/ portion. This special menu will be available from July to September 2018.
Szechuan Salmon is a perfectly fine dining menu for your culinary experience on special occasions with your lovable one.
In December 2017, Golden Lotus Chinese Restaurant has been upgraded with a brand new interior, food presentation and overall standards of excellence to continue delivering an exemplary dining experience to guests of this popular Chinese eatery.
Golden Lotus Chinese Restaurant is an elegant and sophisticated Chinese Restaurant serving the finest Cantonese, Szechuan cuisines and Dim Sum lunches. The interior resembles a classic Chinese dining venue, with traditional paper lanterns, a rich combination of red and gold with carved wood panelling and elegant furnishing. Located adjacent to the Main Lobby of Bali Dynasty Resort, Golden Lotus is open for lunch from 12pm – 2.30pm, and dinner from 6pm – 10pm, 7 days a week. On Sundays it is open from 10.30am – 2.30pm, serving its legendary 'All You Can Eat Sunday Dim Sum Lunch'. With many awards as one of the best Chinese Restaurants in Bali, Golden Lotus is proud to cook Chinese cuisine that is MSG Free. For Reservations please call (+62 361) 752403 Ext. 8502 or email to fbsec@bdr.pphotels.com.