Monk Jumps over the Wall
29 March 2018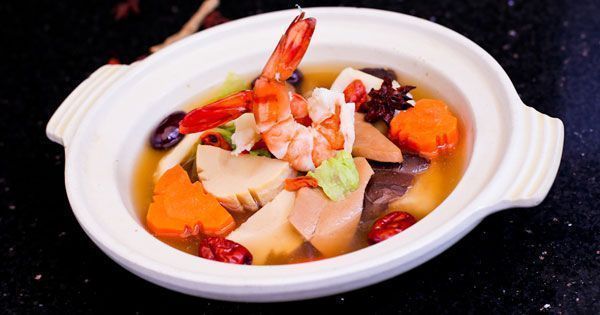 Tuban, 29 Mar 2018 – Golden Lotus Chinese Restaurant invites you to try 'Monk Jumps over the Wall', a popular soup from Fujian Province during Tang Dynasty. This exclusive menu is available from 1st April 2018 until 30 June 2018 for lunch and dinner.
Monk Jumps over the Wall is a complex soup prepared from many ingredients including scallops, sea cucumber, abalone, calamari, chicken, shiitake mushroom and Chinese spices and herbs. The complexity requires one or two days of cooking, which gives the soup its rich taste.
Known in Chinese as 'Fotiaoqiang', this soup derived its name from a legend, which told that the soup was so enticing that even a vegetarian monk could not restrain himself and would sneak out of the monastery by jumping over its wall to steal a taste.
Savour this popular dish the next time you visit Golden Lotus. It is priced at only IDR 130K nett per bowl.
Golden Lotus Chinese Restaurant is an elegant and sophisticated Chinese Restaurant serving the finest Cantonese, Szechuan cuisines and Dim Sum lunches. The interior resembles a classic Chinese dining venue, with traditional paper lanterns, a rich combination of red and gold with carved wood panelling and elegant furnishing. Located adjacent to the Main Lobby of Bali Dynasty Resort, Golden Lotus is open for lunch from 12pm – 2.30pm, and dinner from 6pm – 10pm, 7 days a week. On Sundays it is open from 10.30am – 2.30pm, serving its legendary 'All You Can Eat Sunday Dim Sum Lunch'. With many awards as one of the best Chinese Restaurants in Bali, Golden Lotus is proud to cook Chinese cuisine that is MSG Free. For Reservations please call (+62 361) 752403 Ext. 8502 or email to fbsec@bdr.pphotels.com.